Welcome to Tver state medical academy, an institution replete with tradition, values, enthusiasm, quality and international prestige.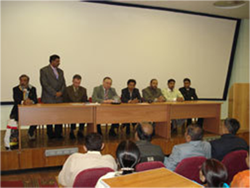 Tver State Medical Academy opens up in 1902 when the courses for dental students were arranged. In 1936 the Leningrad Dental Institute was founded. In 1954 by the decision of the Soviet government the Institute was transferred from Leningrad to the city of Kalinin (now Tver). 1902 – Dental School was founded in St. Petersburg by I.A. Pashutin. 1919 – The Institute of Public Dentistry was founded and led by E.N. Anderson. 1924 – the 1st Dental Laboratory was organized and led by Z.B. Pirjatinsky. 1926 – St. Petersburg Scientific Dental Polyclinic was organized. 1927 – St. Petersburg Scientific Dental Institute was founded. 1933 – Leningrad Dental Institute was founded. 1936 – Leningrad State Dental Institute was founded. 1954 – Kalinin State Medical Institute was organized. In 1986 the Institute was awarded the Order of People's Friendship. 1994 – Tver State Medical Academy was formed. In 1994 after the renaming of Kalinin to Tver, the Institute was also renamed and got the status of the Academy.
For more than 110 years Tver State Medical Academy has been playing a leading role in the development of medical science and training of medical practitioners and scientists. It is always among the top 10 Medical Educational Establishments according to the annual official rating of the 48 Russian Medical Educational Establishments. The Academy possesses a complex of buildings designed for practical classes, lectures, Laboratory studies, research work and auxiliary services. The Tver State Medical Academy has over 6000 beds in 10 various hospitals, including specialized hospitals for oncology, tuberculosis, infectious, skin and sexual transmitted diseases.
Faculties
Faculty of Medicine
Faculty of Dental Medicine
Pharmaceutical Faculty
Faculty of Advanced Nursing Education
Faculty of Pediatrics
Faculty of Postgraduate Studies
The Medical Faculty is the biggest structural and functional sub-division of the Academy. The Medical Faculty is based mainly in the Regional Clinical Hospital and some its departments are affiliated to the city hospitals and maternity hospitals. There are 49 Departments where 405 highly qualified academicians and lecturers are working. There are 51 Professors, 80 Doctors (consultants), and 240 Candidates of Medical Sciences (PHD).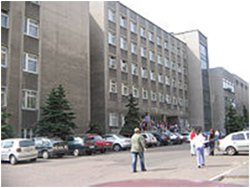 The Pediatric faculty was opened in 1990. The Faculty trains pediatricians not only for Tver, but also for the other regions such as Tula, Bryansk, Pskov and Moscow. Tver state Medical Academy has a strong Pharmaceutical faculty. It functions in a close connection with the leading pharmaceutical corporations of Russia, which gives remarkable opportunity for its students to pass a unique practical training. A pharmacist graduated from the Faculty has already proved to be excellent specialists with profound theoretical knowledge and efficient practical skills. At the Faculty of postgraduate training physicians can receive specialization in obstetrics and gynecology, anesthesiology and reanimatology, ENT, ophthalmology, infections and tropical diseases, cardiology, gastroenterology, immunology and allergology, radiology and rentenology, physiotherapy, general surgery, oncology, psychiatry, traumatic and orthopedics, urology, pulmonology, dermatovenerology, neurology and neurosurgery, endocrinology, public health, oral and maxillofacial surgery, orthodontics, pedodontics, periodontics, oral pathology, oral medicine, prosthodontics, inplantantoology, operative dental surgery.
Tver State Medical Academy is a WHO-recognized medical establishment. According to the WHO international rating Tver State Medical Academy takes the 23rd place in the world and 3rd position in Russia in the Medical Studies for foreign students. It has various profound contacts in the fields of basic medical education, postgraduate training, scientific research, diagnostics, treatment and diseases prevention with many medical organizations of Russia and other countries.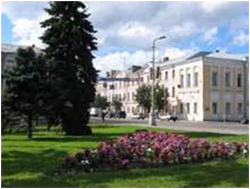 The main directions of international cooperation are cardiology, genetics, pediatrics, gastroenterology, ophthalmology, radiology, surgery and public health. The Academy regularly organizes international academic meetings, scientists and professors from Germany, UK, Canada, USA, Israel, India and other countries are invited to read lectures and to give practical training to the students.
The Tver State Medical Academy has trained medical specialists for foreign countries since 1962. Currently students from more than 50 countries study in Tver State Medical Academy, mainly from India, Sri Lanka, Nepal, countries of the Eastern Europe, Africa, Asia and Latin America. The approximate proportion of foreign students in the Academy is 30 percent. International students can study in Russian as well as in English Medium. Academy provides intensive Russian language course for all international students.
Courses offered and duration
English Medium
General Medicine - 6 years
Dental - 5 years
Sports Medicine - 6 years
Academic session
In Russia, the academic session starts in September. There are two semesters in an academic year, September to January and February to June. The first semester exams are held in January and the second term exams are held in June. You can enjoy two vacations in an academic calendar – one in January-February and the other in July-August
Fee Structure
Tuition Fee – 7050 US$/Annum (English Medium)
Russian Medium – 4000 US$/Annum
Note - These fees include the tuition fees, hostel fees & insurance.
Other expenses
Hostel maintenance charge-5 -10 Euro per month.
Registration fee -25 Euros per year.
Fees will have to be paid in Euro not later than 15th September of that academic year. For new student fees will have to be paid within three days after arriving in TSMA. Hostel fees do not include students mess charge.